Our mission for TRAVEL DUDE is to make traveling more sustainable with the help of our products. Among the decision where you're traveling to and where you want to stay, one important question usually is: What do I bring?
By this we're not talking about what you need to pack in your backpack but how you can pack in a more sustainable way.
For this reason, we got together with a few different companies, which produce vegan, sustainable or recycled products for your next journey. You will find toiletries, clothes and even yoga mats! Obviously, this is just a very small number of chosen providers, but we want to make you aware of the fact that traveling sustainable is easier than you might think.
PANDOO – Zero-waste for your every-day life and travels
Pandoo has been showing it since the beginning in 2017: Sustainability doesn't have to be complicated! They specialize on making sustainability easier for everyone and inspire people to ask "Is there a different way?" (Because there is!)
They realized very early that humans tend to stick to their habits and only change them when it's reasonable and simple. Therefore, it's Pandoos vision to make sustainability much more comfortable in your every-day life. And what works for your every-day life also works for your travels.
Salvatore Decker, the founder, is an experienced world traveler and had the chance to see the sad truth in form of pollution of oceans, beaches and forests with his own eyes. This was the moment when he decided he wanted to change something.
The Pandoo products are plastic free, wood free and/ or reusable alternatives to usual products, which aren't as sustainable. This is how they follow their mission to reduce pollution and deforestation. Additionally, they compensate the CO2 emissions that are produced through their products, support One Tree Planted with reforestation and are partner of Barnabas Children Center e.V. to support children in Kenya.
All their products are made from bamboo. This is the fastest growing commodity on our earth and what's even better is: Bamboo doesn't need any pesticides or irrigation system, AND bamboo itself is anti-bacterial and anti-microbial.
The variety of products is quite high. You will find toothbrushes, hairbrushes, cotton rounds and Q-Tips for your travels, but also anything you need from stationery to every-day utensils.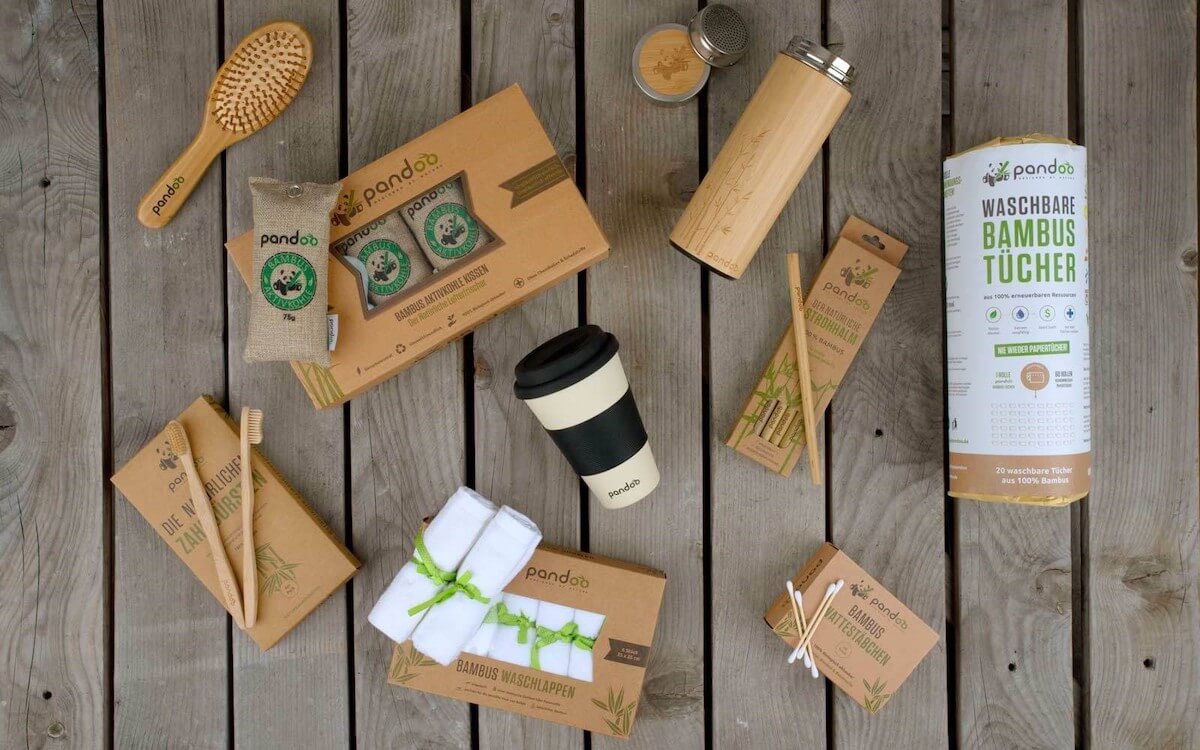 By gopandoo.de
DUSCHBROCKEN – "Fest is Best!" (Solid is best!)
Johannes and Christoph met during their world trips and came up with the idea of "DUSCHBROCKEN" along the way. Something was very obvious for them (and for many other travelers probably as well): Liquid shower gel and plastic packaging suck!
Therefore, they made it their mission to revolutionize your shower experience. They came up with their own recipe for solid, vegan shampoo and shower gel (2-in-1). They started producing on 30 qm with a pizza kneading machine and a hand squeezer, and produced every single bar themselves. Now they're working in a soap manufacture and have a steadily growing team.
Their vision is to make shampoo and shower gel in plastic packaging a thing of the past without anyone having to miss out on an amazing shower experience.
You can choose between 3 amazing shower bars and all of them will come to you in a 100% compostable packaging.
RELEAF – "Make Love, not CO2"
Another company that makes people smile! Not only because of their sustainable mission but especially because they're connecting "the nice thing with the good thing". Because what could be better than changing the world through sex?
The mission: Until 2025 Releaf wants to plant 50 million trees. Through selling condoms.
For every sold condom they plant one tree. And there's more: The condoms are produced from natural rubber (vegan) with a well-known producer in Malaysia with German management. For the production they use mainly solar power.
Every single condom is tested electronically in Germany and lies within the European ISO-Norm. The employees are paid outstanding and they're trying to make the whole production chain fair.
The tree you will finance with you love session will be planted in Mozambique or Madagascar. Most of the trees are Mangroves, which not only bind a lot of CO2 but also reproduce very easily.
The best reason to jump right back to bed! 😉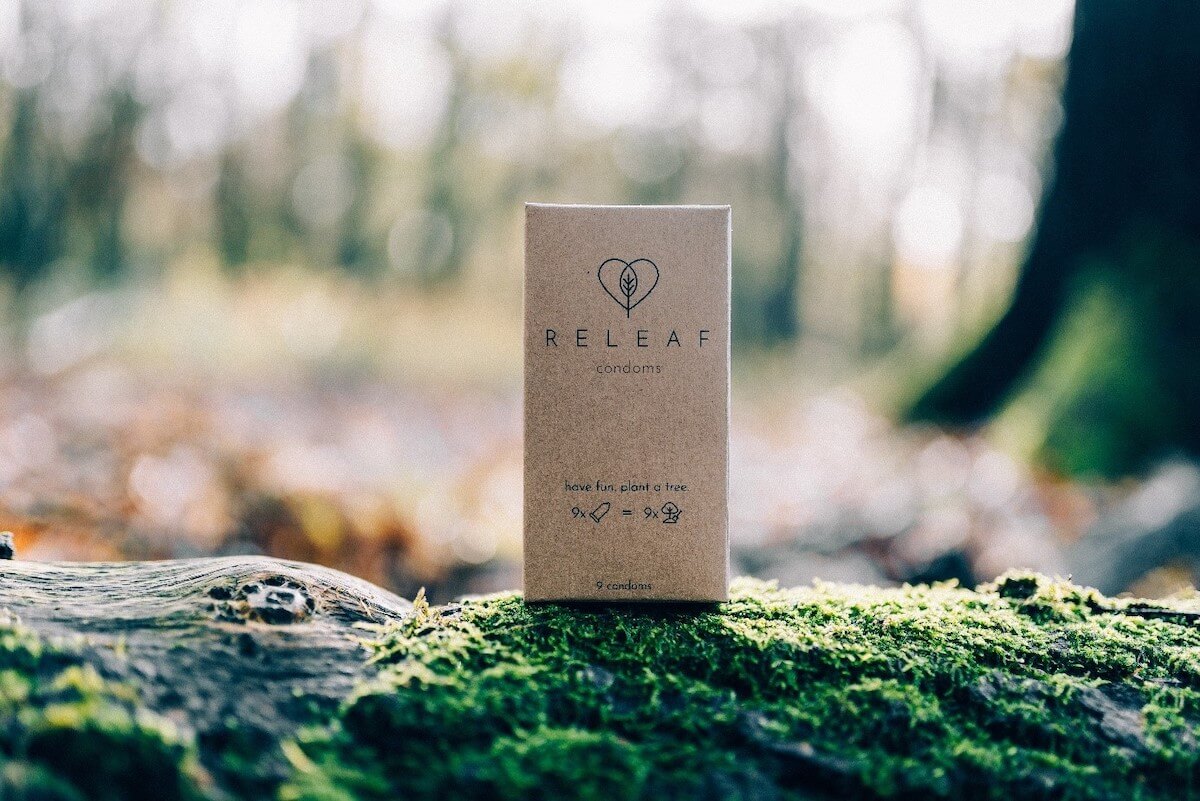 By rele.af
Almost 4 billion people have their period most part of their life. One woman uses around 5 tampons per day for around 7 days per month 12 times a year. Within 40 years this is more than 17.000 tampons! For every single woman.
The huge pile of waste that is produced by women using single-use products during their period is not imaginable. But even worse are the chemicals and the plastic these products contain. They have an impact on our bodies and the environment.
OrganiCup made it their mission to counteract this trend with the help of the menstrual cup.
They say themselves it has always been about much more than just the cup. In their eyes having menstrual products should be a human right. Nobody should be shaming of having their period. Therefore, they're active around the world to support cultural, environmental and social aspects of this topic.
More than 10.000 cups were given to 20 NGOs to make it easier for everyone to get these products.
The OrganiCup is made from 100% medical silicone. It's the only cup that is AllergyCertified. The material doesn't contain BPA, Latex or dye and they put a special focus on producing the cup as natural as possible.
The cup is perfect for traveling – you won't need to buy any additional hygiene products and the OrganiCup is amazing for an active lifestyle. You don't need to worry about your period during your next adventures and don't pollute the environment with additional waste.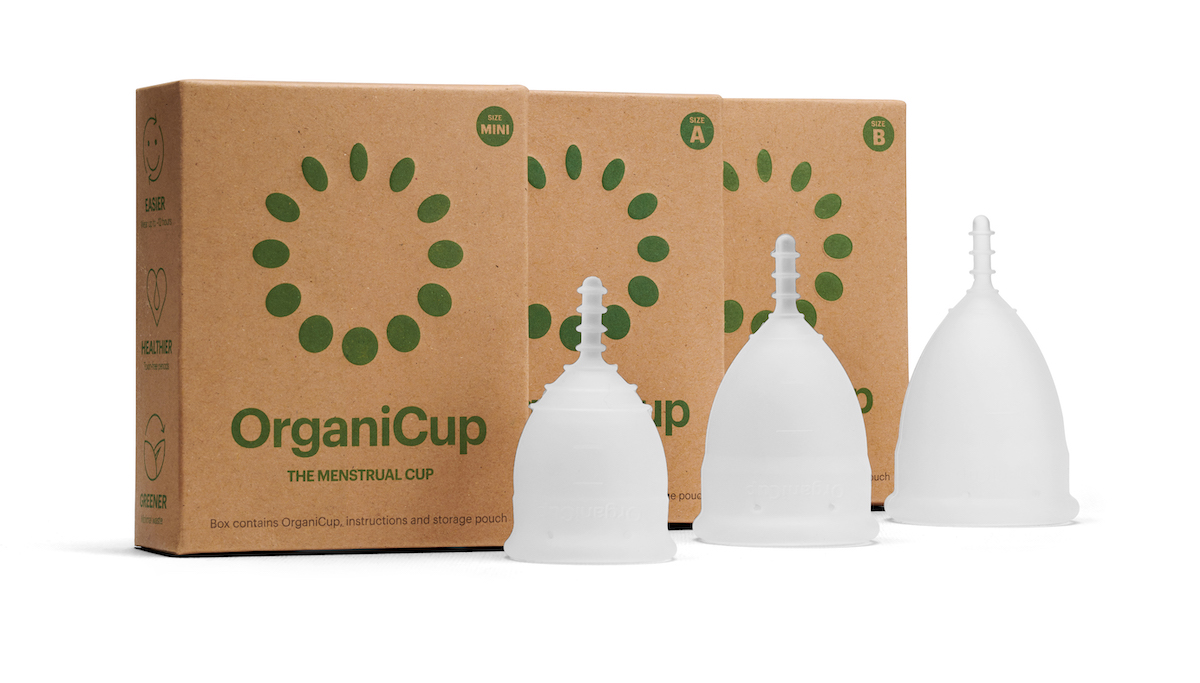 You're looking for sustainable clothing for your next trip? Avocadostore's got it all! Here you can not only find eco fashion, but several other products for a green lifestyle.
The eco online shop Avocadostore includes diverse eco brands and innovative start-ups and supports the sustainable economy. They have different criteria like bio, recycled, vegan or CO2-saving, which you can choose from.
Meanwhile Avocadestore has a huge connection with partnering organizations like Oxfam-Unverpackt, Utopia or Greenpace Energy.
Their major concern is saving the environment. They want to make the eco labels visible for us consumers and want to promote alternative to regular clothing. The materials from which the clothes and other fabrics are made of, mainly contain bio wool, hemp, linen or Lyocell. These are not only much more environmentally friendly but are also very comfy.
Avocadostore realized in an early stage that sustainability is a long-term thing and not just a trend.
BONDA – Women-Empowerment in Guatemala
You're looking for amazing natural cosmetics for your next journey? Then Bonda is perfect for you. Face lotion, shampoo and shower gel are produced vegan in Germany and without silicones, parabens, synthetic preservatives and everything else that could harm your skin. Wisely chosen natural ingredients like aloe or jojoba oil make your hair shiny and your skin healthy. More products and the reduction of plastic are already planned.
And the best about Bonda? Their mission!
Bonda is all about the empowerment of women in Guatemala. The violence rate against women is one of the highest in the world there. Bonda works together with a partner NGO to change this. Through their products they make it possible for women in Guatemala to have different educations and become financially free in the long-term.
It's also Bondas vision to build a little production site in Guatemala to actively include the women there. They want to create more workplaces so that these women can actually evolve and develop. The products will be produced and sold in Guatemala.
Natural cosmetics for women's rights – amazing!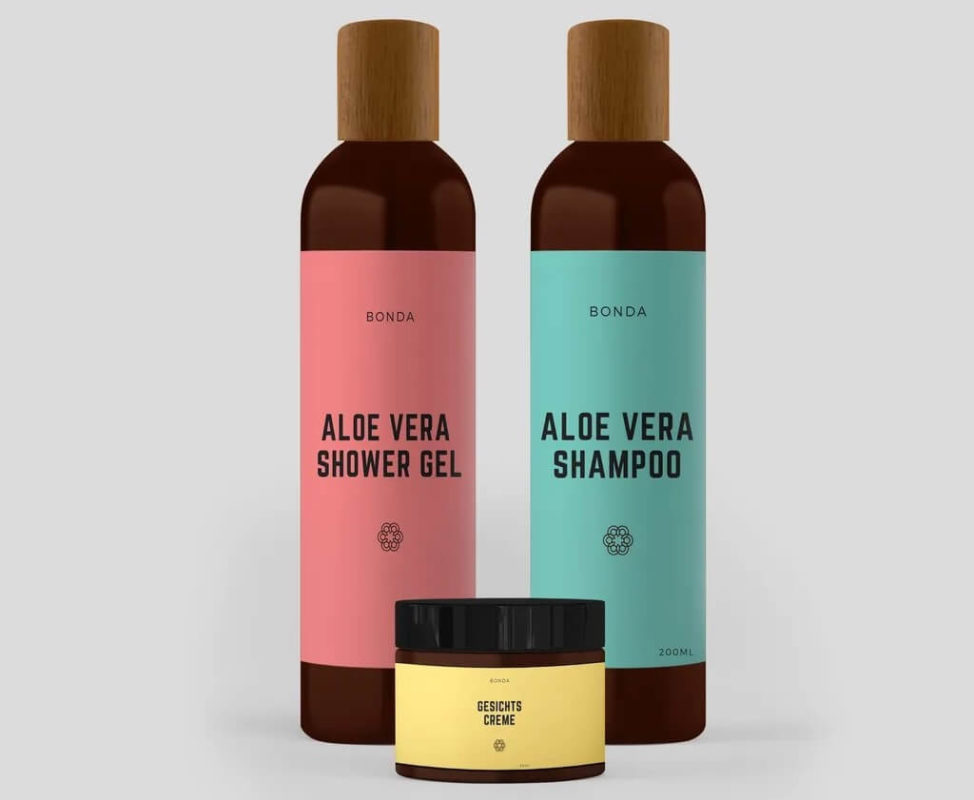 HEJHEJ MATS – a sustainable yoga experience
If you don't want to miss out on your yoga experience during your travels, check out hejhej! Their yoga mats are made from recycled material – from cutting pieces, which are discarded in the foam production.
The production of hejhej-mats is done 100% in Germany and different yoga teachers worked together with hejhej to create the perfect mat.
Additionally, hejhej stands for long-term sustainability and even offers to take on your old hejhej mat for free to recycle it. This saves the environment from additional plastic waste and makes hej hej mats the first closed-loop yoga mats.
With your yoga mat you can also purchase a bag made of PET-bottles and which is also 100% recyclable.
Among the environmentally aspect the founders support an important social project. They got together with workshops for people with a handicap, which sew the logo on the hejhej mats, the bags and take care of packaging and shipping. Furthermore, they donate 1€ for every sold yoga mat to the NGO EarthChild Project and plant a tree for every sold hejhej bag with Plant for the Planet.
By Pia Salzler – hejhejmat.com
When it comes to traveling sustainable our own products definitely can't be missed here! Our Packing Cubes, Shoe Bags, Adventure Set or Foldable Backpack are the perfect travel companions.
Through our Packing Cubes you will not only save space in your luggage, but you will travel much more organized and minimalistic.
Our products are made from recycled PET bottles. This saves energy compared to fabrics made from other materials like oil. Additionally, we can collect up to 14 PET bottles and recycle them into our products through every purchase.
Julia, our founder, loves to travel the world. Therefore, it's ultimately important to her, to create new products and test them on her journeys. This way she makes sure that our products are perfect for your next trip – and many trips after.
See: Sustainable traveling starts at packing and doesn't have to be complicated. It's important for us to create a higher awareness about sustainable behaviour and consumption. If every single one of us makes a step into the right direction, we can change a lot.
You are very welcome to share your own tips on sustainable products and sustainable living with us in the comments or on Instagram. Maybe you also have your own sustainable product and want it to be featured? Feel free to hit us up!