It is your faithful partner along your journey, your piece of home and everything you own – your backpack.
Aside from the right size, look and comfort it is also important to have the individual travel style in mind. Choosing the right backpack can be hard and we would like to help you with this important decision through our experience.
THE DIFFERENT KINDS OF BACKPACKS
When you want to buy a backpack nowadays you are in a middle of countless different pieces. To guide you through this backpack-jungle we will quickly explain the common kind of backpacks for you.
Foldable backpacks:
As the name says, these backpacks are foldable. They are usually very light-weight and can be compressed. Therefore, they are the perfect additional backpack for a journey. You can store a jacket, umbrella or bottle in them.
Daypacks:
Daypacks are simple backpacks for every day to carry food, drinks and clothes. Their volume is around 10-30 L. They have the advantage of a more robust material but also take up more space than foldable backpacks.
Hiking and trekking backpacks:
Depending on the duration of your hiking tour you can choose from different hiking backpacks. For a daytrip you might only need a daypack, but the longer your journey, the more equipment you will need. For a longer trip with more gear you will rather use a trekking backpack. Often, they contain neat gadgets like a rain cape, or a drinking system and they have a better carrying system to support your back.
Suitcase backpacks:
As the name says these backpacks are a merge of a suitcase with a flexible carrying system. They offer a lot of space and can be opened all the way with a zipper. Some types even have wheels and a telescopic rod to pull it like a suitcase behind you. They are especially popular for package holidays or journeys with fewer changes of location.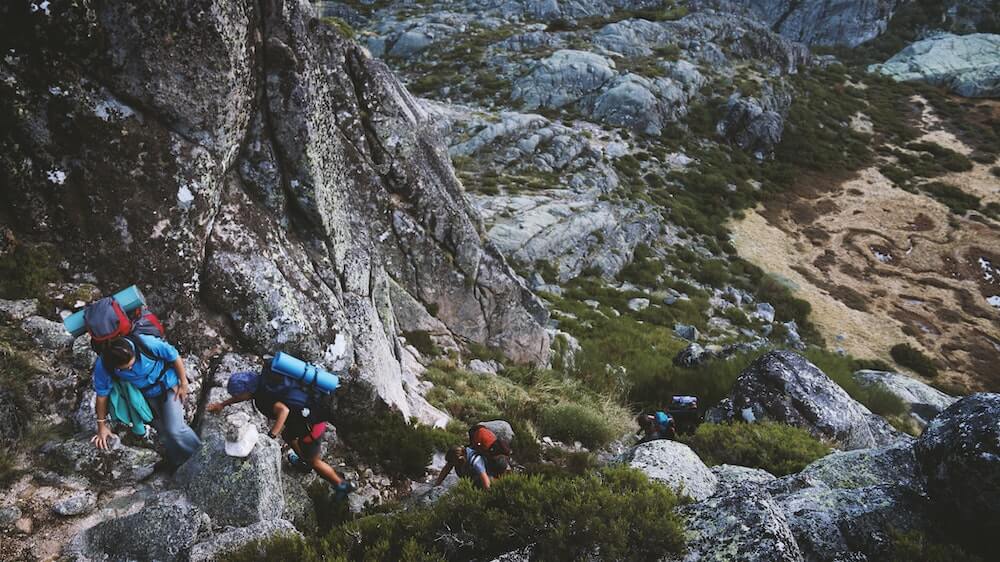 WHAT DO I NEED TO CONSIDER ABOUT BACKPACKS?
When you buy a backpack you always need to think about many criteria, which we will explain now. A good backpack is an allrounder and known for multifunctionality.
Waterproof:
Wherever you go during your trip, your will always be happy when your backpack has some kind of water resistance. Many backpacks come with an additional rain cape.
Carrying system:
To relieve your back while traveling the comfort of your backpack is very important. This includes hip belt, breast belt, shoulder straps, load control straps and the back plate.
When you have a heavy backpack the role of the hip belt is even more important to support your back. The shoulder straps also take on some of the weight but are mainly for stabilization of your back. With the load control straps you can pull the backpack closer to your body, which is also a great support.
For the back plate you can choose between a mesh back panel and a full-contact back panel. The mesh helps a lot with the ventilation and because of the space between back and backpack usually feels more comfortable. The advantage of the full-contact is the support it gives by sticking very close to the body and it is preferred when you have a lot of weight inside your backpack.
Some backpacks also have an extra space to store the carrying system, which is very useful during flights.
Material:
Backpacks are made from polyester and polyamide in different proportions. The material should be very robust in general because it will not always be treated nicely. It should be processed in a way that makes your backpack last longer than for one trip. Test the stability and ergonomy of all seals (e.g. zipper must run smooth).
Openings/ compartments:
Before buying a new backpack, you should know how and what you want to pack. Do you rather have everything in one compartment, or do you prefer many different compartments for all your stuff? Compartments are a nice way aside from packing cubes to stay organized. You can also decide whether you want to fill your backpack from the top, the side or open it like a suitcase with additional zipper.
Size and weight:
The sizes of backpacks are usually displayed in litres and called volume. For beginner sizes between 50-70 l are reasonable. More experienced backpacker can get along with 40 l or less. The bigger your backpack, the more your will carry with you. And you will realize pretty quick that you could have only taken half of the things and carry less, respectively.
Depending on where and when you are going, you should not carry more than 10-15 kg with your backpack.
Color:
You can choose the color for your companion by yourself, but we suggest you take some dark colors like green, blue or black. This way you will not see the dirt and dust immediately.
DIFFERENCES MEN AND WOMEN
Most backpacks are produced for men and women. Because women have a whole different body structure a lot of backpacks have been produced especially for women. They have a different cut to fit the shorter upper body of women. In general, you should compare how comfortable the types are and decide what feels best for you.
HOW MUCH MONEY SHOULD I SPEND ON MY BACKPACK?
You can buy a backpack from 50 € up to more than 300 €. It is not always necessary to buy the most expensive one and pay for the brand name. It is way more important to have the quality and a great fit in mind.
BUY THE BACKPACK ONLINE OR IN STORE?
Before buying a backpack, you should look up all kinds online and compare the styles. Think about what you expect from your backpack. We can recommend you visit a shop in order to try on and talk to and expert about the perfect fit. Once you get some experience you can also order some backpacks online and try them out at home. This gives you more time to think about and compare your options.
HOW DO I PACK MY BACKPACK?
You should pack your backpack after your own needs. We still want to share some suggestions for your orientation. Your backpack should not weigh more than 1/4 of your body weight. At the bottom of the backpack you can store spacious things that are light. Above that you will store a little heavier stuff. The heaviest utensils should always be above that, but underneath your shoulders and very close to your back. Everything else can be filled with your light clothes.
WHAT DO I PACK IN MY BACKPACK?
What exactly you need for your backpacking trip to be fully equipped, you can find in our ultimate pack list for backpacker!
We hope our tips made it easier for you to find through the backpack-jungle and that all your questions were answered. Tell us about your backpack buying experience and what is most important for you when buying a backpack.