Bikepacking is something else than just a regular bike tour – it's more than just a modern phrase. It combines thrill and stunning landscapes and the feel of freedom is reinvorced.
As self supporter bikepacker move away from the known paths and explore countries in their very own way of travel.
Bikepacking origins in the American mountain bike long-distance race, the so called "self-supported races". The distances they're riding take several days and the participants are not allowed to receive any help during the competition. They're on their own and have to help themselves as the name says. This means they have to transport provisions and all their equipment but don't want to lose agility and speed through heavy handlebar- and side pockets.
Through the usage of special bag systems and the reduction of equipment to a minimum they can maintain the comfort while driving. They are still able to bring enough luggage for several days, weeks or even years.
There are different ways on how the luggage can be fixed on the frame. With the different possibilities you can be safe that your equipment won't fall off as soon as you drive on secluded ways.
The standard equipment contains saddlebag, frame bag, and handlebar roll to stow things like clothes, food, tent or sleeping bag. You can use the space in and around the frame to have a balanced weight distribution. This way you don't need a overloaded bicycle rack. For longer tours you can additionally apply smaller bags on the front wheel. The goal is to use the space on your bike in the best possible way whitout having to relinquish on a pleasant driving experience.
Another advantage of bikepacking towards regular bike tours is the easy manoeuvring through rough terrains. You barely have any limitations when it comes to choosing your route because with mountain or gravel bikes, which are usually used for bikepacking, you can leave the common trails and start an adventure away from the known.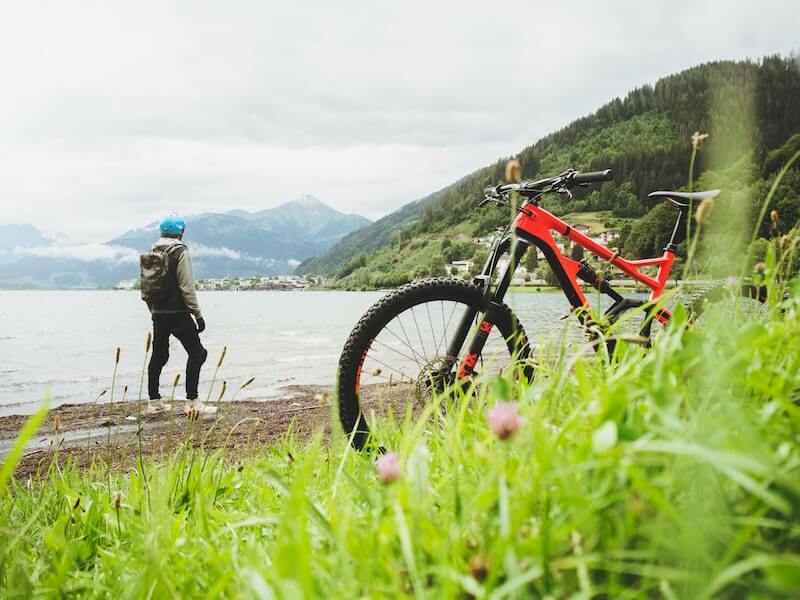 BIKEPACKING ROUTES IN GERMANY
Bikepacking has become a lot more popular in Germany as well during the past ten years. There are countless routes and events in Germany which attract bikepackers from all around the globe.
Here are some of the favourite German routes and events:
Bikepacking Trans Germany: A bikepacking classic which starts in the southwest of the country and ends in the northeast. With 1642 km this is something for more advanced bikers.

Candy B Graveler: A 640 km long tour reaches from the Berlin Airlift memorial in Frankfurt to Berlin. This route sticks out because of its history background and beautiful scenery at the same time.

Stoneman Trail: In the region where this 162 km long route is located in the Erzgebirge you will find an amazing biker culture. The hosts there already adapted to the needs of bikepackers and it's perfect when you rather sleep under a roof.

Trans Teuto: This 140 km route leads you through the Teutoburger forest up in the north and is especially exhausting because of its hilly landscape.

Rennsteig

Hochröhner

Blackforest-Bike-Crossing

Cherusker 500

Grenzsteintrophy
You can find many more routes and events (also international) here.

APPS FOR BIKEPACKING
Maybe you want to go all in with your next adventure and want to fully drift? There are several apps that are perfect for bikepacking and that help you plan your next route. Here are some of them:
AllTrails: Helps you to find the best hiking and bike routes – with route planning, offline maps, etc.

Strava: This app is like a social network for bikers and has many useful features like tour tracking, bike computer, route planner, trainings analyzation, etc.

OsmAnd: One of the best open source maps and navigation app for Android – with offline maps, route planning, etc.

Komoot: Offers custom tours, route planning, voice navigation and offline maps for bike and hiking tours.
BIKEPACKING PACKING LIST
First, you obviously need a proper bike. Different kinds of mountain and gravel bikes are eligible here. Depending on your expert level, your equipment, and your own preference you should get a professional consulting before you buy your bike.
Most importantly you always need to have enough provisions and drinking water with you, especially when you're hitting trails off the beaten paths.

Outdoor Equipment
Next to bikes and bags you should also bring the following outdoor equipment:
Small tent (or tarp)

Camping mat

Sleeping bag

Camping cooker (+ crockery)

Clothing
Multi-functional clothing is also highly recommended. In addition to bike and change clothes you might need some of the following:
Rain protection clothes (rain jacket, rain pants, etc.)

Windbreaker jacket/ isolation jacket or west

Gloves

Bike shoes

Helmet

Hygiene
Hygiene shouldn't be ignored but you should leave your washing bag at home. We advise you to bring:
Toothbrush

Toothpaste or powder

Bio soap

Deo

Small microfiber towel

Wet toiletpaper

First aid set

Sun protection

detergent

Others
Other useful tools might be:
Multitool

Magnesium (for cramps)

Light

Replacement equipment

Navigation device

Collapsible shovel
Depending on the duration, route, and personal preference the content of your bags can vary but remember that you will have to carry all your luggage with your muscle power up and down the hills. 😉
Once your route is set, you packed your bags and checked your bike, your good to go on your bikepacking adventure!