What are Packing Cubes?
Packing Cubes are bags with zippers, made to storage your clothes during your travels. Their flexible use makes them suitable for all types of travel
Why use Packing Cubes?
You will be more organized and save space and time.
Whether your clothes, shoes or hygiene articles – everything can be stored properly and in perfect order.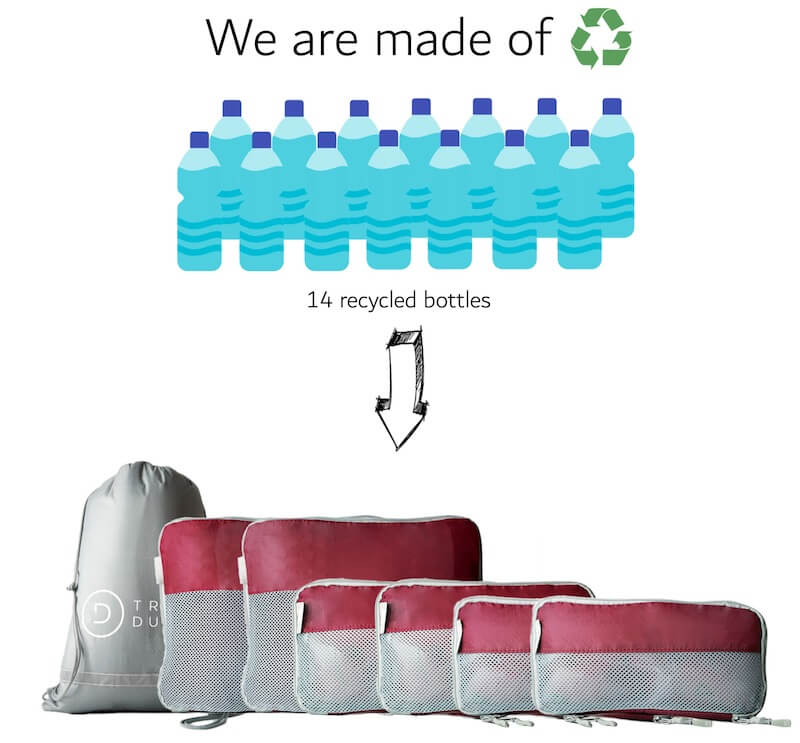 From Recycled Plastic
Our mission is to make travel more sustainable. So why not start with packing? The TRAVEL DUDE Packing Cubes are made from recycled plastic bottles. This saves energy compared to fabrics made from virgin material and reduces plastic waste at the same time.
Packing Cubes with Compression
TRAVEL DUDE was the first company to introduce packing cubes with the compression function in germany. With the additional compression zippers you can eliminate unnecessary air and save space!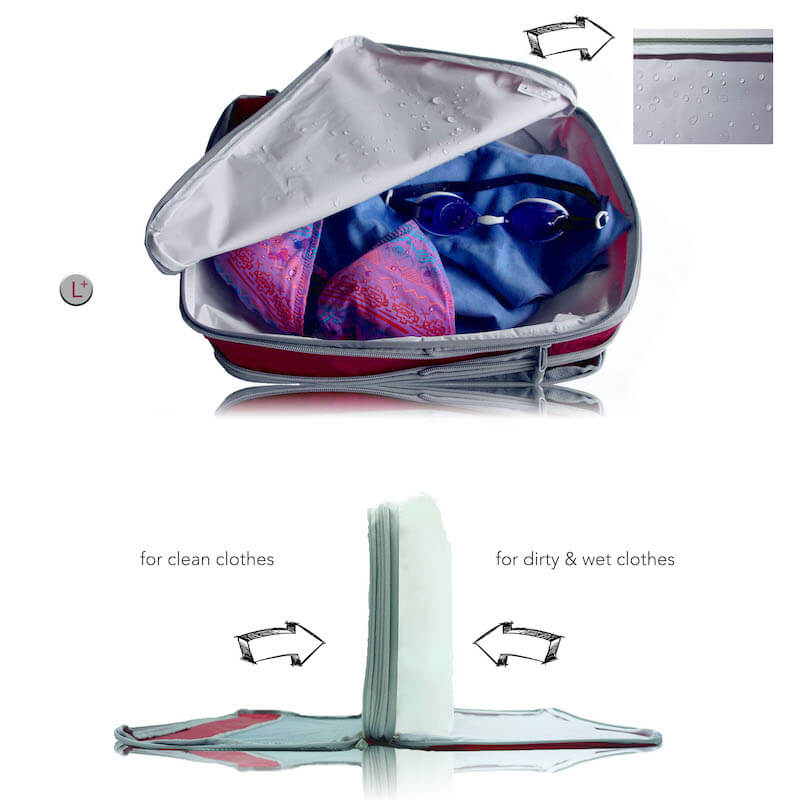 Waterproof & Transparent
To separate your dirty or wet clothes from your clean stuff, our packing cubes (L) have an extra waterproof compartment.
With the mesh on all our packing cubes, your clothes can breathe and you see everything without having to open the bags first.
HIGH Quality
The TRAVEL DUDE quality is one of our most important attributes. With the help of our ergonomic zippers, you can easily open and close your packing cubes.
All materials are thoughtfully chosen and the prototypes have been tested by us during our own travels.
for SUITCASES AND Backpacks!
Unlike other packing cubes, we promise that TRAVEL DUDE packing cubes will fit into every backpack from small to large.
From travelers for travelers
Julia, the founder of TRAVEL DUDE is a passionate traveler herself. Therefore she is eager to create new products every traveler needs. She designs and tests everything herself to make our products perfect for your next journey.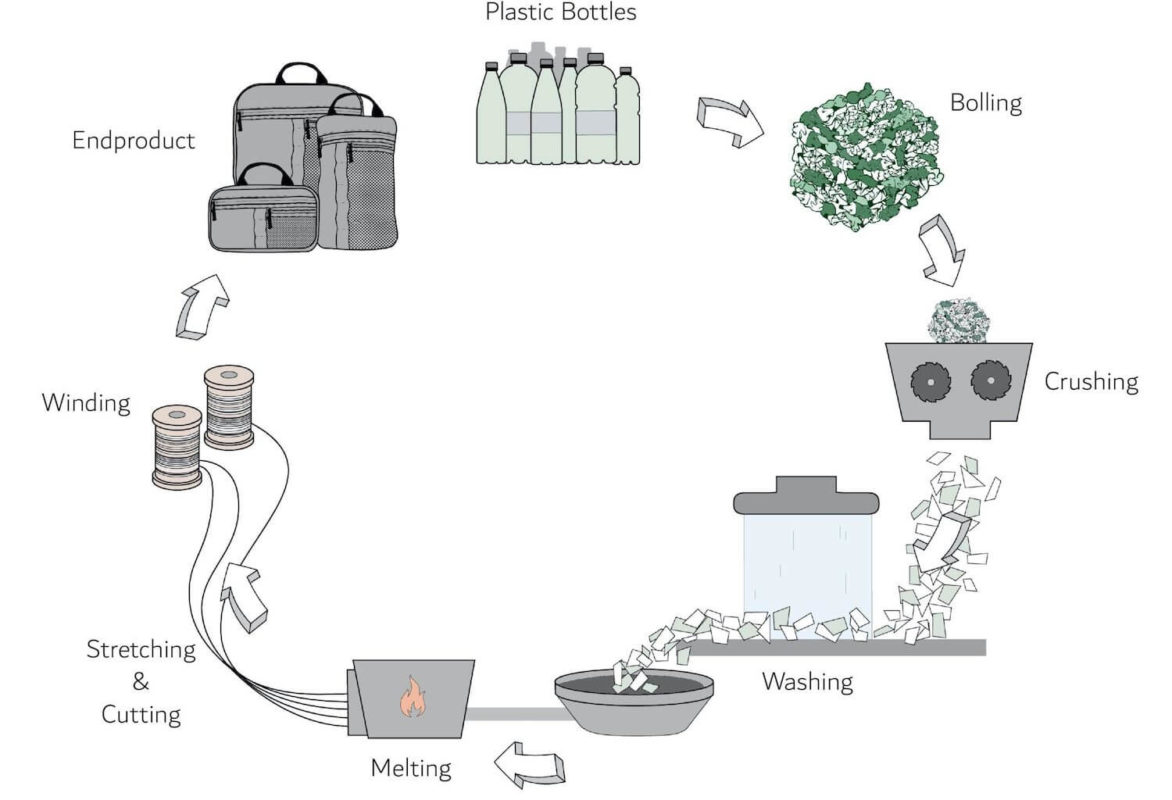 MADE OF RECYCLED PLASTIC BOTTLES
Packing Cubes are usually made of nylon or polyester (PET) based fabrics. Mostly these yarns are made from virgin material: oil
As we want to counteract this trend, we have our travel organizers made from recycled plastic bottles, especially for the nylon fabric. For this, used plastic bottles are collected, crushed, cleaned, melted, formed into pallets, spun into yarn and then woven into fabrics. This saves a lot of energy (and CO2) compared to fabrics made from virgin material as well as reducing plastic waste.
GLOBAL RECYCLED STANDARD
All fabric used for production meet the international requirements of the "Global Recycled Standard" (GRS). This ensures the purity of the recycled materials and a sustainable, social and environmentally friendly value chain.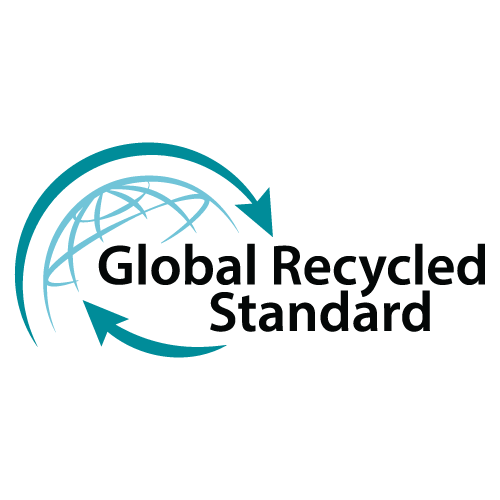 advantages
TRAVEL DUDE's
Packing Cubes

fit in all backpacks
see-through
compression
sustainable & recycled
waterproofed compartment
robust zipper
laundry bag is included in the set
different colors
from travelers for travelers
PACKING CUBE SET (7-Pieces):
2 x Large bag (35cm x 28cm x 10cm) for trousers, sweaters, shirts, shoes, etc. (one of the large cubes has an extra waterproof compartment)

2 x Medium Bag (28cm x 18cm x 10cm) Ideal for sweaters, shirts, T-Shirts

2 x Small Bag (28cm x 14cm x 10cm) Perfect for socks, underwear


Laundry Bag (34cm x 52cm)
PACKING CUBE SET

(4-Pieces):
1 x Large bag with

waterproof compartment

(35cm x 28cm x 10cm)
Perfect for wet and dry clothes (wet towels, bikinis etc.)

1 x Medium Bag (28cm x 18cm x 10cm) Ideal for sweaters, shirts, T-Shirts

1 x Small Bag (28cm x 14cm x 10cm) Perfect for socks, underwear

Laundry Bag (34cm x 52cm)