The life of a backpacker sounds like a very active and fit lifestyle at first: You're outside all day long and go hiking, swimming and on top of that you wander countless miles by foot. Exercising while traveling seems so easy.
But this doesn't have to be the everyday life. Most backpackers probably struggle with staying fit during their travels. There's barely enough space in hostel rooms and you most likely don't feel to comfortable crawling over the ground while 11 other people are still half asleep in the beds next to you.

In order to help you with the "How?", "What?" and "Where?" the following blog post contains some tips and suggestions.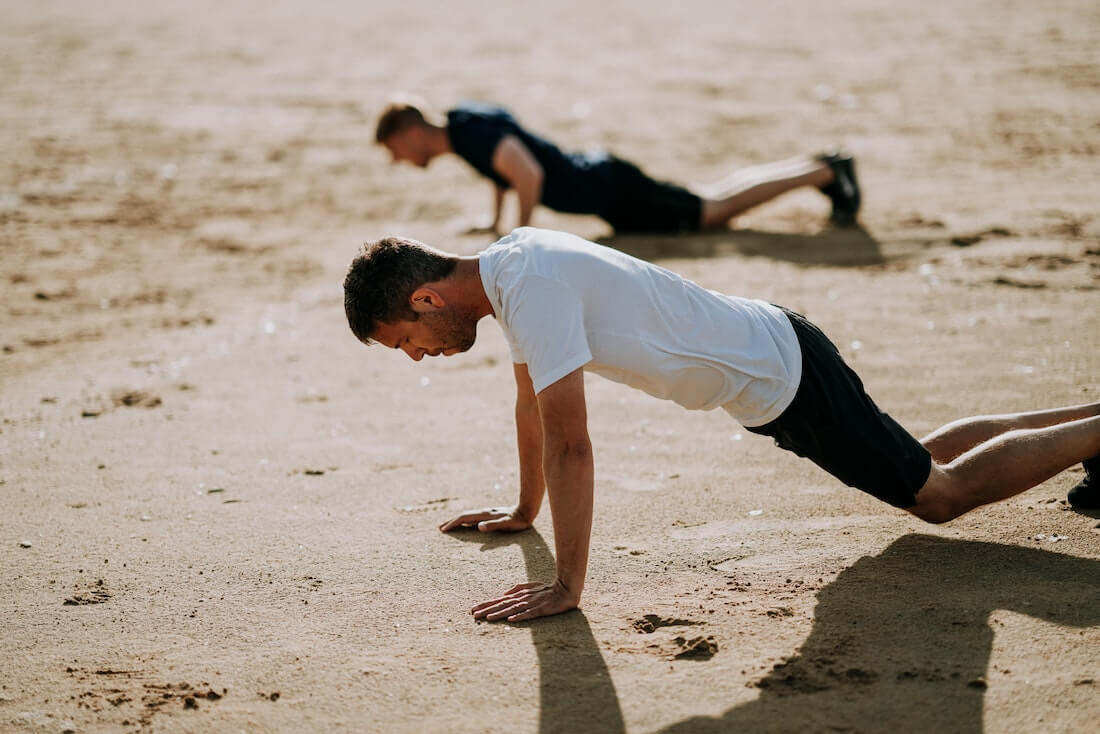 WHAT IS SPORT…
… and what makes a workout a workout?
Finding a clear definition for this is probably impossible. But luckily it isn't necessary! There are myriad ways to keep yourself fit. Does what ever it is you're doing need a specific name? As long as you're moving and feel comfortable with it, it doesn't have to be labelled!

Sport – or at least being active – lies in human nature. Back in the days though it fulfilled a different purpose than it does now. Procurement of food by walking to the fridge obviously doesn't count anymore.

Sport is done because you want to, not because you need to. Enhancing your bodies performance, competition, relaxation or simply fun – sport is mostly for yourself.

In general, workouts describe tasks that enhance your sporting performance. Within those you find different intensities, the extent is variable and there are numerous methods. I believe that you can find a technical term for almost every kind of exercise and therefore EVERYTHING could count as a workout.

Some sprints on the beach become interval training, the pleasant but extensive stroll becomes cardio practice and the conscious stretching session in the morning is suddenly called "Yoga".

But does it have to be like that?

Does it matter how we call what exactly we're doing and if we engage in Cardio, HIIT, Yoga, Tabata, Meditation or whatever else there might be?

Maybe you discovered something completely new for yourself and you believe there isn't any trending name for it yet? I doubt it.
BE YOURSELF!
Don't worry about how you can keep fit, to which fitness plan you should stick or how ridiculous you might be looking during your workout. You're doing it for yourself and your body!
As long as we're active in some way, everything will be fine. Also, the sum of our daily motion has a much higher effect on us than single exercises.
Be creative, be curious, follow your intuition and try to not be limited by anything.
OUR TIPS FOR EXERCISES DURING TRAVELS
In case you're still lacking ideas on what your exercises could be, we gathered some tips for you. Be open-minded and remember: You can, but don't have to.
Yoga: Visit a yoga class or watch a video online. You can do it easy by yourself or in a group
HIIT or Tabata: For this you don't need much space and you're able to work with your own body weight. You can find exercises for this online and see what fits best for you.
Beach volleyball/ soccer/ etc.: It's not about your skills when you meet with others on the field and it's a great possibility to meet new people and exercise outside.
Hiking/ Climbing: Just start walking! Being active doesn't mean to fully overspend yourself. If you're climbing a mountain or just strolling along the streets doesn't matter. (Pro-tip: In case regular hiking is too boring for you, search for a more advanced track with a decent slope and try to find out the fastest time. I bet you're not able to beat it – or, afterwards you've changed your mind. :D)
Try country-specific sports: Have you ever tried Baseball, Muay Thai or surfing? Maybe you'll find a new passion!
Use nature: Keep it simple! Go for a hike, a swim, ride the bicycle or go kayaking.
Gym: In southeast Asia and Central- or South America you're able to pay per session. The prices vary between 0,50 € – 3 € per day pass. If you've got some spare time you can look up a local gym near you, exercise and have a fun talk with some of the locals.
Don't put yourself under pressure with exercising – you're probably already more active than you'd think as you're permanent on the move as a backpacker. And if you're feeling sluggish and don't feel like working out, it's also ok to laze sometimes.
Do what feels best for you!
And now we would like to know how you keep fit during your travels! Do you have some more insider tips or sports that everyone should try? Share it with us in the comments!