In the age of digitalization, a new group of freedom-loving people emerged, which are able to work from anywhere in the world: Digital Nomads.
Digital nomads are usually freelancer or self-employed and, in some cases, employed with the possibility to work remote. They are advocated in job branches that allow them, because of the internet, not having to work in a set workspace. They usually only take care of their customers, projects, and clients online. They don't need much more than a smartphone, laptop or tablet and a good wifi connection to do their work. This provides the opportunity to live a location-independent or multi-local life.
There is a broad variety of jobs for digital nomads. They monetize websites or blogs, sell digital products and services, work as authors and coaches, graphic designers or software engineers or are working in E-Commerce. There are countless full and parttime jobs which can be done from far away nowadays.
THE LIFE OF A DIGITAL NOMAD/ WHAT DOES IT TAKE TO BE A DIGITAL NOMAD?
Whether under palm trees by the beach, at mom's breakfast table, on the airplane or in a coworking space of a metropole – as digital nomad you can work from anywhere, because being location independent is the major criteria for these freedom lovers.
Obviously, it's not necessary to live a life on the road to be a digital nomad, you can also work from our couch if you prefer that. The main point is you can choose where you want to work and live.
WHAT DOES THE WORK DAY OF A DIGITAL NOMAD LOOK LIKE?
It's especially important to get a good balance between online- und offline-life and a good work-life-balance as a digital nomad, respectively. People who are self-employed tend to stick to the screen – wherever in the world they are.
The everyday life of a digital nomad is very versatile. Some need their regular routines and a quiet workspace like in a library to be productive, others want to be surrounded by people while working and set up their workspace in a café or restaurant.
A lot of digital nomads who work as freelancer do the money for time principle and can adjust their schedule by themselves. Others are employed and have certain times during which they need to be working and again others are completely independent and self-employed and can work as much as and when they want.
You should always be aware though, that in this way of working you're mostly all by yourself and it requires a much higher degree of self-discipline – especially when you have the ocean in front of you or would like to discover a new country instead.
In most cases digital nomads don't search for the classic tourism and don't change their location every other day. They rather stay in one place for a longer amount of time to be able to experience a country and get all their work done.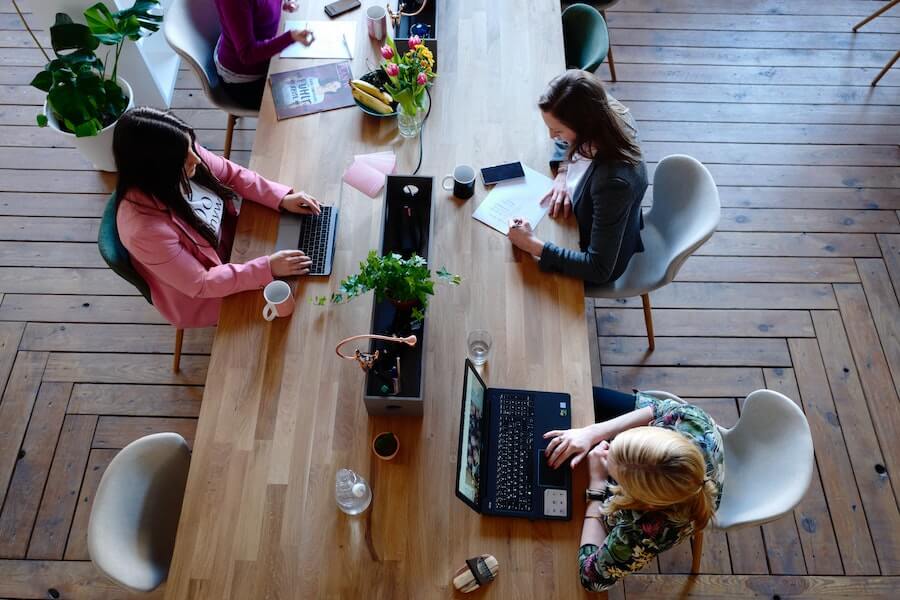 DIGITAL NOMAD JOBS – HOW DO THEY EARN MONEY?
Among digital nomads you can distinguish between three different directions: Employees, Freelancer or Self-Employed people.
In these areas you can earn money in a huge variety of jobs.
The advantage of being employed is for example you get a fix monthly pay or a travel insurance and have to get different tasks done conversely. Freelancing jobs can be done for example in these areas:
Coaching
Graphic Design
Journalism
Programming
Virtual Assistance
Webdesign
Copywriting
Photography
Consulting (SEO, Social Media, Marketing, etc.)
They get their offers through connecting with people or groups on social media and offering their services, over a website or different freelancing platforms like freelancer.com.
If you want to make the step and start your own online business, you get the advantage that you don't have to switch time for money anymore. Often self-employees start as freelancer or do both because an online business usually takes quite some time until it's running properly. Additionally, you will need a lot of self-discipline because especially in the beginning you will work a lot more than you earn.
ADVANTAGES OF DIGITAL NOMADS
The life of a digital nomad overall gives you the advantage of being location independent. You can work from anywhere which means you can work, live, and travel at the same time.
But there are many more advantages to it:
Working self-determined:
You can choose your projects and work almost completely free and don't have to show up in an office. There's no regular 9-5 daily grind and you don't necessarily need to work your 40 hours weeks or have to see annoying colleagues.
Financial freedom:
Through being a digital nomad, you can work in a country with low living expenses while still earning your money in euro or dollar. For this reason, Thailand or Indonesia are favoured by digital nomads.
New people and cultures:
When you open up and work in cafes or coworking spaces and get in touch with others, you will find many interesting people that might be on the same journey as you. This is especially interesting when you meet people that are doing somewhat of a similar job like you and you can support each other.
Adventures:
Many people are bored with their job and their everyday life. This will never happen to you as a digital nomad as you can always move when you want to and stay where you like it. Whenever you feel like change, you pack your bags and move on.
DISADVANTAGES OF DIGITAL NOMADS
A lot of people imagine the digital nomad lifestyle like sipping cocktails while scrolling on your smartphone somewhere at the beach. This is only the truth for quite rare cases.
Before you dive into the digital nomad life you should also be aware of the disadvantages you might face:
Relationships and contacts at home are harder to keep:
If you aren't as lucky to be in a relationship with a partner who's also living the nomad life, this can be very tough for both of you as you might feel limited or you'll have to go into a long-distance relationship.

You won't see your friends and family at home as much when you spend most of your time on the other side of the world. Good thing you will be able to call them over video chat!

Connecting isn't always easy:
Living like a nomad means to leave everything behind every now and then – this also includes the people you meet around the globe. Sometimes it can be hard to find new friends in a new place, especially when it's not a hot spot for digital nomads. For this reason, most of the digital nomads have different home bases and usually visit the same places as there are always more people living the same lifestyle.
Annoying burreaucracy:
Especially when you're self-employed or working as a freelancer, you will have to deal with much more burreaucracy than when you're regularly employed. You will also have to take care of visa and insurances when you're traveling.
You might lack routines and productivity:
If you've got all the freedom you want, it might be harder to work with the same discipline and stick to your routines. This counts for sport, eating or working habits.
Risks in foreign countries:
Germany is one of the safest countries in the world, which means you will most likely travel and live in countries which are not as safe. Potential risks could be a high crime rate, natural catastrophes, or exotic illnesses.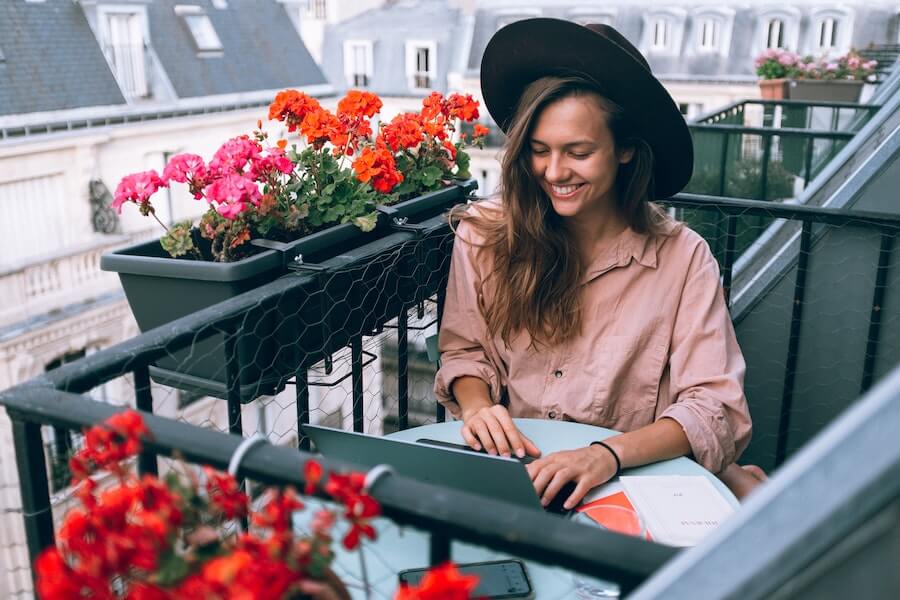 TIPPS FOR THE DIGITAL NOMAD LIFE
We could probably give your countless tips on how you can start and live as a digital nomad, but we agreed on the most important ones.
TIP 1: HOW DO YOU WANT TO EARN MONEY?
For a good start into the digital nomad life you should become aware of what you want to do and how you want to make money online and location independent. There are countless possibilities, but it should be something you really enjoy doing, otherwise it won't make you happy.
TIP 2: WHERE DO YOU WANT TO LIVE?
Many digital nomads quit their residence and live anywhere in the world while others keep their flat and travel only for a couple of months every year. Think about where your mail should be sent to and where you want to sing up your business (in case you want to be self-employed).
TIP 3: HOW CAN YOU BE CONTACTED?
Depending on the kind of business you do, you might need to be contacted to certain times. It's reasonable to be informed in which countries the internet is good even between the cities and whether you have a good Wi-Fi connection.
TIP 4: BEGIN WITH FINANCIAL RESERVES!
Whether you're on a trip around the world or start the life of a digital nomad, you should have financial reserves in both cases. Especially in the beginning it might take longer until you earn enough money and you don't want your adventure to end after just a couple of weeks, right? Another possibility would be to work from home for a while until your business has grown a bit before heading out into the world.
TIP 5: WRITE A BIG TO-DO LIST!
There are thousands of things that need to be taken care of before you can start the digital nomad life and travel the world. Take pen and paper and write everything down you believe is important and has to be done beforehand. Get in contact with other digital nomads and read in different blogs or social media groups about what else you might be missing.
In the end you will have to know for yourself whether this lifestyle of a digital nomad is for you, because it's a whole new way of living. We for ourselves can say: We would take the risk again anytime. We love it and wouldn't trade this for anything.
FAQs
Do you need to be self-employed as digital nomad?
No, you don't have to run your own business to be a digital nomad. There are many companies that allow their employees to work remote from anywhere. Additionally, you can work as a freelancer, which is a step towards being self-employed.
How many digital nomads are there?
The digital nomad movement is quite young but steadily growing. MBO partners found out that about 4.8 million people call themselves digital nomads and more than 17 million people want to become digital nomads.
What do I need to work as a digital nomad?
Depending on your job you will need a smartphone and a laptop. When you're self-employed you will also need to have a business registration. You most likely will need a good WiFi connection and depending from where in the world you want to work different visa and insurances.